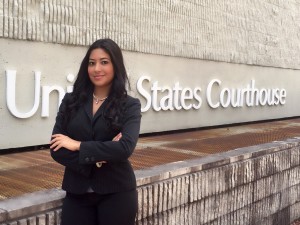 Title: Attorney and Counselor at Law
Phone: (954) 635-8787
Fax: (954) 963-2227
Email: sofia@guzman-law.com
Attorney Sofia Guzman was born in Honduras, Central America and moved to Florida at the age of six. Ms. Guzman attended Florida public schools through college. She attended Coconut Creek High School and became a dual-enrollment student at Broward Community College, taking college courses while still a 12th grade student. After graduating High School, she attended Florida Atlantic University (FAU). While at FAU, Ms. Guzman was awarded a scholarship to reside at FAU's Business and Professional Woman's Scholarship House (BPWSH) based on her strong academic performance. At the BPWSH, Ms. Guzman resided with 15 women who shared academic excellence, leadership experience and community responsibilities. While a full-time student at FAU, Ms. Guzman also served as a member of the FAU Student Senate and worked at FAU Student Government as an assistant student lobbyist and as a paid intern at the United States Bureau of Citizenship and Immigration Services in West Palm Beach, FL with the supervisory adjudication officers. After graduating from FAU with a Bachelor of Arts in Criminal Justice in under three years, she attended and graduated from Nova Southerneastern University with a Master of Science in Criminal Justice and a Minor in Behavioral Science with high honors and a 4.0 Grade Point Average, in under eight months. She then went to attend Thomas M. Cooley Law School in Lansing, Michigan with a scholarship and attained a Juris Doctor in Law with a concentration in Litigation. Even before graduating law school and obtaining a license to practice law, Ms. Guzman was permitted by the Florida Supreme Court to serve as a Certified Legal Intern in the Juvenile Division of the State Attorney's Office in Miami-Dade County and litigate misdemeanor and felony cases. Prior to engaging in private practice, Ms. Guzman practiced Personal Injury, Immigration law, and Bankruptcy law at a Pompano Beach firm.
Ms. Guzman has two offices, located in Hollywood and North Lauderdale, Florida. Ms. Guzman is personally involved in every case in her law firm. Her passion, experience, and honesty combined with her professionalism and enthusiasm makes her the attorney you need to handle your legal matters.
Sofia Guzman is a licensed attorney in the state of Florida and New Jersey and a Member of the Florida Bar Association and the United States District Court for the Southern, Middle and Northern District of Florida. She is also a member of Broward County Bar Association (BCBA), Florida Association for Women Lawyers (FAWL), and Broward County Christian Lawyers Association